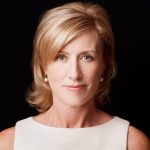 Donegal born businesswoman Moya Doherty has been appointed as the new Chairperson of RTE.
Ms Doherty, one of the co-founders of Riverdance first joined RTE in the 1970s.
She was a founding director of Radio Ireland, which later became Today FM.
Speaking after her appointment this afternoon, Ms Doherty said RTÉ has to find structures capable of redefining the role of public service broadcasting in a media space transformed by social and digital technologies.