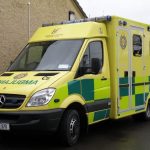 A confidential report into the ambulance service says targets for response times can't be met. A number of incidents in Donegal have been cited in the course of an ongoing debate about delays in ambulances arriving, one of which was highlighted in a recent report which outlined severe problems.
According to The Irish Times, the document says Ireland is too rural to support a service of the same standard as England.
Under HIQA's targets – 80 per cent of potentially life-threatening calls are supposed to be dealt with by a first responder in under 8 minutes. Last year only 26-point-6 per cent of callouts met that target – while in rural areas that dropped to 6-point-6 per cent.
According to the study by Lightfoot Solutions commissioned by the HSE – Ireland's "high rurality" means the cost of running the service is much higher than its English counterpart – while Irish people are less than half as likely to call an ambulance than people in England.
The report says improvements would only be made by hiring 290 extra staff – at a cost of 15 million euro per year – and even then – it may not provide enough of an improvement in clinical outcomes for patients who aren't time critical.