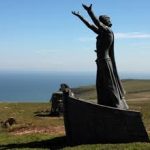 The theft of a six-foot sculpture statue of a Celtic sea god, that has prompted a campaign for its safe return, has now led to a 'missing persons appeal' by the PSNI.
Manannán Mac Lir, which is made out of fibre glass and stainless steel, was stolen last week from Binevenagh Mountain near Limavady in Derry.
Limavady police have asked the public to look out for "a well-known 6 foot tall striking local male with an athletic build."
Those who made off with the statue left a wooden cross with the words, 'You shall have no other gods before me' in its place.