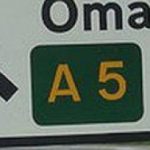 The Minister for Transport has said that the Government is 100% dedicated to the A5.
The €650 million project, linking Dublin and the Northwest, stalled in 2013, after the High Court ruled a full environmental assessment must be carried out.
Although the project has been in limbo for almost two years it's hoped it will be cleared to go ahead before the end of this year.
Speaking to Highland Radio News, Minister Pascal Donohue says the Government has already pumped in millions to the project and more money will be set aside…..

Podcast: Play in new window | Download