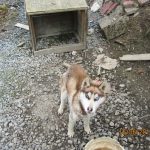 A Donegal woman has been convicted of failing to adequately feed a dog, fined €10.00 and disqualified from keeping animals for a period of five years at Letterkenny District Court yesterday.
Katy McMonagle of Lissmullyduff, Killygordon had admitted a number of offences under the Animal Health and Welfare Act 2013 at a previous court sitting.
The case resulted from a visit made by ISPCA Senior Inspector Kevin McGinley to the defendant's home on 16th June 2016 when he discovered a one year old female Siberian husky dog chained at the back of the property.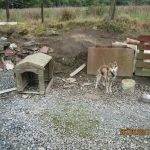 When Senior Inspector McGinley examined the dog he could feel every bone on her emaciated body.
Her only shelter was a small dilapidated wooden kennel with only two sides and no floor. There were empty food and water bowls nearby.
The dog, named Misty, was signed over to the ISPCA and was immediately brought to the Donegal Animal Hospital for treatment. On admission the dog was found to weigh just 9.5kgs while the recommended weight for females of this breed is 17kgs -25kgs.
Misty was subsequently transferred to the ISPCA National Animal Centre in Longford where she was cared for until she completed her rehabilitation. Misty made a full recovery and has since been responsibly rehomed to a loving family.
ISPCA Senior Inspector Kevin McGinley said: "Under the Animal Health and Welfare Act 2013, pet owners need to be aware that they have a legal responsibility to provide for the welfare needs of the animals in their care. Animal neglect and abuse will simply not be tolerated and ISPCA Inspectors can and will instigate legal proceedings if owners are failing in this regard. I am delighted Misty got the kind home she deserves".
Below is a recent picture of Misty: