Ant McPartlin's estranged wife Lisa Armstrong has hinted that she is heartbroken after reports emerged at the weekend alleging he has found love with his personal assistant.
The couple announced that they were divorcing after 11 years of marriage in January and it is now reported that McPartlin is in a relationship with his assistant Anne-Marie Corbett.
The Sun on Sunday published pictures of McPartlin walking his dog along with Corbett with a source telling the newspaper: "Anne-Marie's put him back together again. Everyone's thrilled he's found someone to love."
Armstrong took to Twitter on Sunday and posted two broken heart and a whole heart emoji.
The make-up artist went on to reveal that McPartlin did not tell her about his alleged new relationship and she found out about it through the news reports.
When a follower tweeted back: "If it's true I would have hoped out of respect to you that he didn't let you find out from the media," the makeup artist responded: "Nope. Just how you guys did."
On Sunday afternoon, in response to model Nicola McLean's tweet of concern, Armstrong wrote: "Thanks babe and to think she was MY friend!!"
When another follower said McPartlin was "seemingly hiding someone all along," Armstrong responded: "Yeah My Friend and OUR Pa who I let into OUR home".
McPartlin has reportedly been supported by Corbett over the past few months since he crashed his car while drink driving. He was fined £86,000 and given a 20-month driving ban.
A source told The Sun on Sunday that Corbett has been "his rock" over his difficult year, saying: "He's had a tough time of it, but Anne-Marie has put a smile back on his face again. She has been his rock.
"They have been living in each other's pockets, day in, day out. Knowing someone is there for him has brought him back from the brink – she's put him back together again.
"It's very early days, but everyone is hoping he can put the worst year of his life behind him and find happiness again. Both of them deserve it."
McPartlin tied the knot with make-up artist Lisa Armstrong in 2006 at a star-studded ceremony at St Nicholas' Church in Taplow, Buckinghamshire.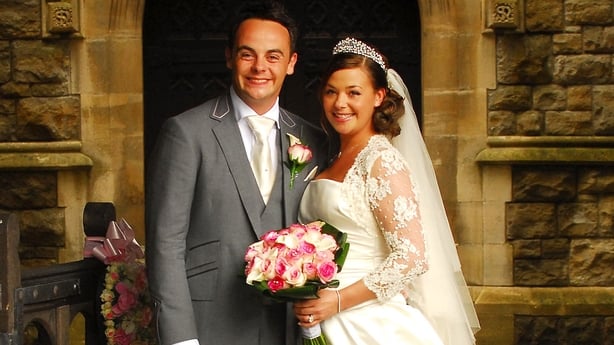 The couple met at a roadshow in Newcastle in the mid-1990s while Lisa was an aspiring pop star in a group called Deuce, who enjoyed a couple of chart hits before breaking up.
McPartlin has often spoken of the couple's struggle to have children.
Last year he entered rehab after struggling with a two-year addiction to super-strength painkillers following a knee operation in 2015.
"I've put Lisa through hell with mood swings and depression and how it affects you," he said at the time.
"I'm very sorry about the effect it has on partners," he added. "This kind of stuff puts strains on any marriage. In hindsight, I should have mentioned it earlier but you're embarrassed about it."
rte.ie