RTÉ 2fm presenter Louise McSharry has revealed that the British royal couple praised her for the way she "encourages women to use their voices" and also for playing all Irish contemporary music at a garden party to welcome them to Ireland.
The broadcaster and writer, who is a huge proponent of new Irish music on her 2fm radio show (Sunday-Thursdays from 8pm) told RTÉ Entertainment, that she got the phonecall about the gig at the British Ambassador's residence about three weeks ago  and joked that she was impressed by her "own ability to keep a secret!"
Talking about the setlist McSharry said: "They wanted the vibe to be cool and fun and more in sync with what Harry and Meghan might want at a party with their friends as opposed to a stuffy engagement.
I suggested that I would play Irish music only and they were really enthusiastic about that."
She added jokingly: "Obviously I wouldn't have played anything inappropriate, they trusted me not to do that!"
There was a mix of Irish cultural and sporting figures at the event, from former president Mary Robinson to writer and advocate Sinéad Burke, actors Caitriona Balfe, Moe Dunford and Barry Keoghan and former rugby player Brian O'Driscoll.
McSharry says "everyone was really excited" to be there.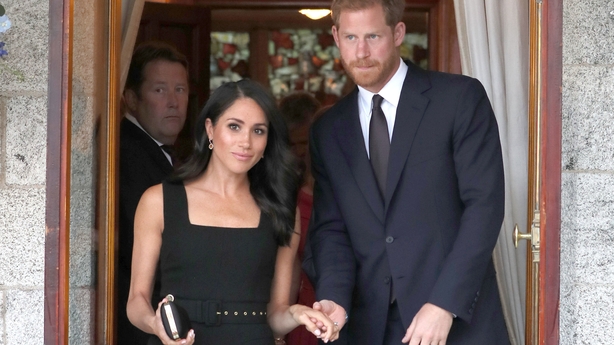 "The weather was incredible and the grounds of the ambassador's house are beautiful, even if it hadn't been a special occasion it would have been nice because of the setting," she said.
"I think everybody was really excited, it was a really cool mix of people, some faces you'd recognise and others you might not but whose work you might be aware of, people who do a lot in social enterprise. There was just a really good buzz, people were just really excited."
The radio DJ was introduced to the royal couple after her set as they were about to leave and she was taken aback by how genuine they seemed. When asked if Meghan is as nice in person as she seems, McSharry replied: "I didn't expect her to seem false, but there was no falseness about them, I didn't get that vibe at all.
"They really seemed to be in tune with whoever it was that they were speaking to, seemed genuinely interested, which I just think is impressive because, the amount of people they must have met yesterday. I wouldn't have been in any way offended if by the time they got to me they didn't care!"
The broadcaster joked that her "number one priority" was that she didn't want to make a fool out of herself when face-to-face with the royals. She wanted to commend Meghan on her feminism and Harry on his contribution to the conversation around mental health.
"I wanted to say something about Meghan's feminism because I think it's so huge to have someone who is openly feminist and who has worked for women's equality in that kind of position and also I'm a huge admirer of the work Harry's done of late around mental health."
McSharry says she got to say those things, but there was a surprise in store.
"Obviously they get briefed on who they're going to meet over the course of the night, but when I was introduced to Meghan she straight away said 'I read about your work and the way you encourage women to use their voices, I think that's really great' so I kind of lost it", she said. "I wasn't expecting her to."
The presenter says that the couple seem as madly in love as it appears in photos.
"They seem really happy. You do get that vibe from them that it's the real deal."
As well as promoting Irish music at the event, McSharry also took the opportunity to wear one of her favourite Irish fashion designers.
"As soon as I got asked to do the gig I contacted Helen Steele because she's my absolute favourite Irish designer, I absolutely love what she does, I love her dresses, and I just asked her if she might have something I could borrow and she straight away was really enthusiastic and excited and said she could make something for me.
"I love it so much, I wish I was wearing it right now, I want to wear it every day for the rest of my life!"
Meanwhile, McSharry said word got back to her that Harry, who she describes as "really good natured and good humoured," enjoyed her set of new Irish music.
"Aisling Bea told me that Harry said that he liked the music and that it wasn't what he was expecting," she said.
"So for me, and I mean this sincerely, it was just amazing to be able to play all Irish music to an audience like that for a couple of hours."

Some crew:) @UnaMullally @WeeMissBea @SimonHarrisTD @louisemcsharry @Together4yes @BritEmbDublin #RoyalVisitIreland
485

78 people are talking about this
Twitter Ads info and privacy
The broadcaster added: "Irish music is in such rude health at the moment and I love the fact that I got the chance to play it there to all those really important people but also that I got to share the playlist today and hopefully the Irish artists that I played will get a bit of a lift from that because it's absolutely deserved."
Have a listen to Louise McSharry's playlist below.

Replying to @louisemcsharry
FYI, I am playing a set entirely made up of contemporary Irish music. pic.twitter.com/I4XqiUqlvz
Here's a link to the playlist I mainly worked from last night. According to @WeeMissBea, Harry commented on the music being good, which wouldn't surprise me because Irish music is KILLING IT right now! <3 https://open.spotify.com/user/louisemcsharry2fm/playlist/5atZNqlz2ydQIQTlyiVGuS …
100

16 people are talking about this
Twitter Ads info and privacy
rte.ie
.