Donegals Martin Mc CLoskey and Derry's Daryl Gurney both reach the last sixteen on their debuts at the BDO Lakeside World Championships.

In the opening round McCloskey came from behind twice to defeat 11th seed Steve West.  Defying the odds the Donegal Captain took the match in a thrilling 3-2 victory.  McCloskey, who is a native of Carnhill in Derry, has lived in Letterkenny for the last 15 years and throws locally in the Letterkenny Churchill and the Farn League's. Martins dream came to an end in round two losing to Garry Thompson 4-1.  Known in Dart circles as "The Fox", he qualified for the Worlds by taking victory in the Inter Play Offs.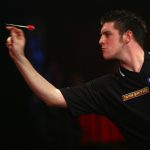 Daryl Gurney also snitched victory in a pulsating match against 14th seed Scott Micthell. The Derry thrower went 2-0 up, Mitchell pulled back level 2-2 before Gurney took the decisive set to win 3-2. Like Mc Closkey, Daryl left the tournament in round two losing to the eventual World Champion Martin Adams 4-1. Daryl became the first Northern Irish player to qualify for Lakeside since 2001.