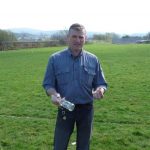 A Strabane Councillor says anyone drinking in and around The Meadows on Sunday has to take repsonsibility for the closure of the sports pitches.
Broken bottles necks, which were turned upside down with the jagged bits standing upwards, were inserted all over the grounds.
Councillor Jarlath McNulty says the bottles were left in a deliberate attempt to cause harm, and as a result the grounds will have to be closed.
And he also says whoever was at The Meadows shouldn't have been drinking, as it's a public place.

Podcast: Play in new window | Download