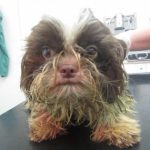 More than 140 dogs have been recovered in a joint operation 
involving several agencies in Co. Leitrim.
The ISPCA, together with Leitrim Animal Welfare, helped rescue the dogs from a property in a rural area of the county where they were living in 'deplorable conditions'.
The ISPCA said it is the largest cases of canine dog in the history of the State and required the co-operation of 4 organisations to work together in the operation.
The dogs were found to have urine, faeces and sawdust embedded in their
matted fur, while one dog had to have its eye removed.
ISPCA officer Kevin McGinley described just how bad the conditions the dogs were found in were…..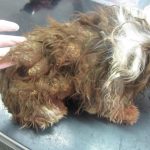 Meanwhile, an appeal has gone out for homes for dogs in need of care and special attention.
The Shih Tzus, King Charles Spaniels and Bichon Frises were badly neglected and are in pretty poor condition, but they'll be assessed and treated before being re-homed.
The Dogs Trust re-homing centre on the Ashbourne road in is helping the ISPCA to find new owners – and anyone who's interested in helping can make contact with the service.
Podcast: Play in new window | Download