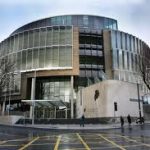 A Co Donegal farmer who sexually abused seven children has been jailed for 12 years.

43 year old Peter Corcoran of Dunmore, Falcarragh has pleaded guilty at the Central Criminal Court to 15 sample counts of indecent assault, sexual assault and rape between 1984 and 2000.

He was described in court as evil, very clever and opportunistic. During the trial, one of the victims had tears in his eyes as he told the court 'I'll never ever forgive this man'.
Peter Corcoran was aged about 15 or 16 when he began abusing girls and boys in his area, some as young as 7 or 8 years old.
One woman he abused gave evidence of her horror when he showed up as an unwelcome guest at her wedding, ruining what was supposed to be the happiest day of her life.
The court heard from a man raped by Corcoran as a teenager that it was hard to come forward about the abuse because the farmer was 'very highly thought of' in the community.
Today, "Heather", one of Corcoran's victms and the woman whose wedding day he ruined,  spoke on the Shaun Doherty Show.  She said she was not the only member of her family to be abused, and said she believes there are other victims who have not yet spoken out.
She echoed the description of  Corcoran as a very clever man……….

Part 2
Podcast: Play in new window | Download