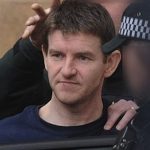 The mother of a 37 year old Derry man awaiting trial on mortar charges says she fears for his life after several alleged approaches were made to him in Maghaberry Prison by men attempting to recruit him as an informer.
Gary Mc Daid has applied to be transferred to the prison's republican wing, but that's been refused, reportedly on the basis that his life might be in danger.
His mother Ann, a native of Buncrana, says she's been assured that's not the case.
She says he now sits under lockdown, constantly afraid of another approach, and she now fears for his mental and physical health…………..

Podcast: Play in new window | Download