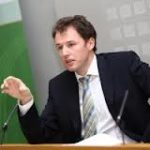 A Donegal North East Deputy TD says a massive government cut in the Housing Adaptation Grant is having a severe impact on people with disabilities.
According to Deputy Charlie Mc Conalogue, Housing Minister Jan O'Sullivan is funding a €10 million programme to build new houses for disabled people by slashing the grants to adapt existing dwellings.
He says Donegal County Council received just over €3 million in 2011, but this year, the allocation has plummeted to just over €827,000, a cut of 73% over two years.
Deputy Mc Conalogue says this will put extra pressure on health services, and could prevent people who become disabled from living at home……….

Podcast: Play in new window | Download