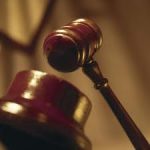 A 36 year old Tyrone woman has been remanded in custody at Dungannon Magistrates Court, charged with having a remote control receiver which could be used to trigger a bomb.
Nuala Gormley from Dromore was also charged with having a transmitter and antenna in circumstances likely to be of use to terrorists.
She told police she knew nothing about the items, which were inside a modified oil drum in the boot of her Nissan Almera car when it was searched outside Cookstown on Tuesday.