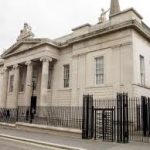 A Derry businessman who was the victim of a paramilitary-style shooting in his Waterloo Street shop has been charged with possessing CS gas canisters.
Raymond Coyle was shot by dissident republicans for selling so-called legal highs in his shop in February 2010, and was threatened last year with execution.
55 year old Mr Coyle from 41 Fountain Hill in the Waterside, is charged with purchasing and possessing three CS gas canisters on May 30 and September 29 last year.
Derry Magistrates Court was told that the defendant would be denying the two charges.
The case was adjourned until September 6th when a date for the contested hearing will be fixed.
In 2010, Raymond Coyle was the victim of a paramilitary style shooting, believed to have been carried out by the group 'Republican Action Against Drugs'.
Last April, after Mr Coyle was involved in a number of anti-RAAD protests sparked by the shooting dead of Andrew Allen outside Buncrana, he was told by the PSNI that a warning had been issued by RAAD that he would be 'executed'.