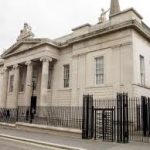 A barrister has claimed he was stopped by police and held for a period on his way to court to represent a dissident republican in what a District Judge described as a matter of 'concern.'
Mr. Plunkett Nugent was on his way to Derry Magistrate's Court this morning when he said he was stopped on the Victoria Road in the Waterside area of the city.
The barrister said he asked repeatedly under what legislation he was being pulled over but initially received no reply he then said he was told that it was under the Justice and Security Act looking for munitions, transmitters and receivers.
Mr. Nugent said he told officers that Section 24 of that Act had been deemed illegal by the Court of Appeal.
The barrister said the matter was of great concern and added that if such practice continued it would affect his ability to properly represent clients.
He said that during the search he told police officers that they were not entitled to look at legal documents and they asked him to shake them out to show there was nothing concealed in them.
Mr. Nugent said he would be raising the matter with his own solicitor and the professional body representing barristers.
District Judge Barney McElholm said that the issue would need to be taken up with the Police Ombudsman.