The Fleadh in Derry has been hailed as the biggest one ever to take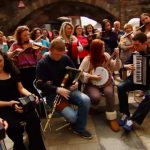 place.
The Irish traditional music festival, which came to North for the first time this week, ended last night with a huge closing ceremony in Ebrington Square.
Over 430,000 people visited Derry over the past week.
Shona McCarthy is the Chief Executive of the Culture Company 2013 – she told the Shaun Doherty Show that the Fleadh was a huge success:

The Chairperson of the Fleadh, Evelyn Ni Doherty says there is no reason why the Fleadh cannot return to Derry in the future:
Meanwhile, the PSNI says it is delighted at the success of the Fleadh and would fully support a bid to have the event return to the city in the future.
Podcast: Play in new window | Download