With the start of the 2nd Gallagher Globall Gathering just a couple of weeks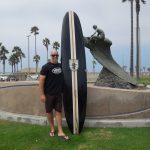 away, a request has come from one of those coming from California to find a home for his special Gallagher Clan surf board.
Dave Gallagher was a Californiam lad of twelve when, in the early 80s, he was bitten by the surfing bug while on a family holiday in Hawaii. After that his life revolved around surfing even selecting his university on the basis of its closeness to the waves.
Dave and some friends are heading to Donegal for the Gallagher Global Gathering and he hopes also to catch some waves while he is here. To that end he has produced a special surfboard which among other things will bear the Gallagher Clan coat of arms.
He intends to leave his board in Ireland on his return to the USA. "After I surf it in Ireland, I'd like to leave it there. Is there a Gallagher Pub or a cool bar that might be interested in hanging it on a wall?
In California it is very common to have surfboards displayed on walls," says Dave. The Gallagher Global Gathering runnning from the 6th- 15th September will be based in Gortahork, in the heart of the Donegal Gaeltacht and has something for everyone, whether you are a visitor or whether you are fortunate enough to live in this beautiful county of Donegal.