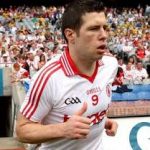 Tyrone's Sean Cavanagh says they were beaten by a very good team in yesterdays All Ireland semi final against Mayo.
1-16 to 13 points the final score, Alan Freemans goal from a penalty early in the second half turning the game in the Connachts side favour there.
Referee Maurice Deegan awarded a penalty to Mayo when Colm Boyle was taken down by Dermot Carlin at the edge of the square and Cavanagh says he's not sure it was the right call from the ref as he wasn't close to the incident.

Podcast: Play in new window | Download