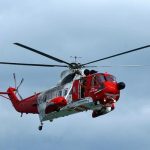 The Minister for Health has confirmed that Emergency Medical Helicopter Service is to be extended to the North West Region
The decision for EAS service to cover the North West region is in view of the recent difficulties at Letterkenny General Hospital arising out of the flooding.
The service, for the past year, has been used on a pilot basis mainly in the west of Ireland and allows for patients to be moved quickley between hospitals when required.
Welcoming the news, MEP Pat the Cope Gallagher says the new service will compliment the 118 rescue helicopter in Sligo which already carries out medical evacuations……….

Podcast: Play in new window | Download