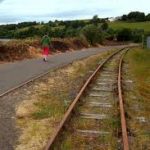 Donegal North East TD Joe McHugh is backing the West Ulster Rail Initiative which was launched in Letterkenny last night, and says rail should be made an issue in next year's European Elections.
The initiative is bringing together campaigners from Donegal, Derry, Monaghan, Tyrone, Cavan and Fermanagh to come together to promote railway development on a cross border basis, utilising disused rail lines which the group believes can provide the foundations for substantial cross-border rail infrastructure.
Deputy Mc Hugh says he will continue to press the rail issue in Leinster House, and is urging people to use next year's poll to put rail firmly on the European agenda.