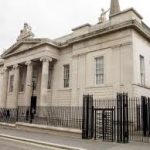 Derry's District Judge Barney McElholm has said that there should be better links between the criminal law system and the medical profession so that people with addiction or mental health problems can get the proper care they need.
He was speaking during a bail application from 35 year old Alan Luukas of Foyle Park in Derry who is charged with arson endangering life on the 9th of last month.
The court had been told earlier that Luukas was accused of setting fire to his flat and telling police that he wanted to kill himself.
A PSNI officer told the court that they were opposing bailing Luukas to his mother's address due to the history of domestic incidents there, and also because Luukas's claim that he wanted to take his own life placed others in danger.
Defence solicitor Mr. Paddy MacDermott called Mrs. Luukas, the defendant;s mother, to the stand and she said that her son had serious mental issues, and she was trying to find out how her son was able to sign himself out of a mental institution after just three days following the fire.
Judge McElholm said that people could have died in this case and added that he did not want to keep Luukas in prison and would prefer he received proper treatment.
But, he added that he was unable to order that the defendant be assessed and said that at least some 'expert opinion would give the court some comfort', adding that legislators need to look at this situation as to what happens people with problems that need treatment.
The bail application was adjourned until Thursday next, September 5th, to try and get some expert opinion.