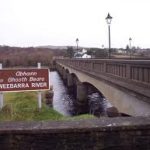 Ten charges of illegal fishing against six men already part-heard will go ahead for a complete hearing at a special sitting of Glenties District Court on October 10.
This was announced at Dungloe District Court today by Judge Paul Kelly.
The cases are among a total of 137 charges against 40 men and one woman accused of illegal fishing in the Gweebarra River system.
The other 127 charges, in which prosecutions have yet to start, were also adjourned to the special court in Glenties for mention.
All cases will be dealt with by Judge Denis McLoughlin because he has part-heard some of them. A number of the cases have been before the courts, ranging from the District to the Supreme, over the past four years.
All cases involve allegations by Inland Fisheries of illegal fishing on the Gweebarra system in the Doochary area. Some of the summonses date back to 2008.