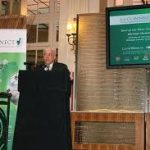 A senior official with Donegal County Council says the newly established Letterkenny Gateway Economic Forum has the capacity to ensure the town maintains and enhances its gateway status.
Michael Heaney, the council's Director of Community, Culture & Planning Services says the forum is bringing together councils, businesses, community groups, educators and others to ensure that there is a continued focus on Letterkenny's economic development.
The forum was formulated in July and meets for the second time next week.
Michael Heaney says it has the potential to make a major contribution………..

Podcast: Play in new window | Download