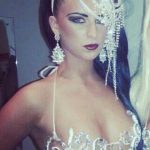 One of two women arrested in Peru on suspicion of drug smuggling is to plead guilty in exchange for a shorter sentence.
Melissa Reid, of Lenzie, near Glasgow, and Michaella McCollum, of Dungannon were caught with £1.5m of cocaine at Lima Airport.
reports
Ms Reid told the Mail on Sunday she hoped a plea deal would see her get home as soon as possible.
The newspaper said her deal could see her sentence cut from up to 25 years to six years and eight months.
Her family believes she could be released in three years, the paper said.
In a telephone interview Miss Reid, who is being held in Virgen de Fatima prison in Lima, was reported to have told the Mail on Sunday she did not want to be in prison until she was 35.
Ms Reid's father William has previously said he believes the pair should plead guilty in order to get the legal process over as quickly as possible.
As of yet it is not known if Tyrone woman Michaella McCollum will make a guilty plea.