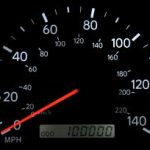 A man with an address in County Donegal has been ordered to pay more than £5000 in compensation to people defrauded by a series of clocking offences on second hand cars.
Michael Gahan (25) of Garveahy, Brae Road, Burnfoot in Donegal appeared at Limavady Magistrate's Court where he faced a total of 13 charges in connection with a range of cars where the mileage was changed.
All the charges occurred between September and December 2010.
The court heard of the mileage being changed in different cars. In one case the mileage shown was 85,300 when records showed it should have read 121,977. In another car the mileage shown was 70,126 when it was known to be 145,000. In a third car the mileage showing was 76,000 when it should have read 168,996.
The court was also told that compensation was being sought in the case of three of the cars. A defence counsel Mr. Stephen Chapman said his client accepted  what he had done.
He said he was buying his vehicles from a single source, doing them up and selling them on with the changed mileage.
The Deputy Distirct Judge Pater King pointed out that this could have been done legally.
The barrister said his client was aware he would have to pay compensation and was 'fearful' of facing custody.
The judge told Gahan that the only thing saving him from a prison sentence was a desire for him to pay monies back to the victims of his dishonesty. He sentenced Gahan to 100 hours community service, fined him a total of £1,100 and ordered him to pay £5,500 in compensation.