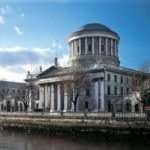 A drunk driver who caused a head-on crash in County Monaghan – killing two of his friends and a pregnant woman originally from Fanad has been given 2 months to show why he should remain out of jail.
Kevin McArdle from Longfield in Carrickmacross was 3 and a half times over the legal alcohol limit – and on the wrong side of the road – when he crashed into another car on December 27th 2010.
Two of his friends were killed along with the passenger in the other car, 39 year old Donegal native Roisin Connolly, and her unborn daughter.
The Court of Criminal Appeal has struck down the 4 year sentence imposed on McArdle – after the Director of Public Prosecutions appealed it on grounds of undue leniency.
Irish Independent Legal Affairs Editor Dearbhail McDonald says the appeal court will now consider what further penalty to impose on McArdle….

Podcast: Play in new window | Download