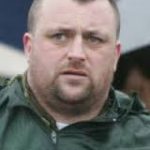 Leading Derry dissident republican Gary Donnelly has had a charge of assaulting a police officer during last year's Olympic torch visit to the city dismissed today at the local Magistrate's Court.
The incident was said to have occurred during protests by dissident republican supporters which resulted in the flame having to make a short detour away from the planned route.
The 42-year-old of Iniscarn Road in Derry was charged with assaulting a police officer on June 4 last year.
Mr. Conor Gillespie for the Public Prosecution Service said there was a DVD available of the incident.
He told the court that a police constable approached Donnelly from behind.
He said he placed on hand on his shoulder and one on his torso and as Donnelly turned round he struck the officer.
Mr. Stephen Mooney for the defence said that there was a 'lurking doubt' in the case.
He said the DVD allowed the judge to view the incident for himself and in a way act as jury.
Mr. Mooney said that there was no evidence that any contact was not accidental.
Deputy District Judge Austen Kennedy said that the DVD had been 'extremely helpful' in this case.
He said that on his viewing of the DVD it was clear there had been some contact but he could not be sure that it was 'deliberate or reckless' and it could have been accidental.
On these grounds he said he would dismiss the charge.