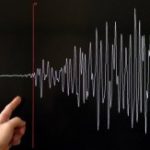 Tremors from a serious earthquake in Pakistan have been recorded here in Ireland.
Irish Seismometers in Donegal recorded the quake – one of the strongest to occur in the world this year.
The earthquake measuring 7.8 magnitude struck at 12.29 today in a remote area of Western Pakistan.
There are warnings that the quake's likely to have caused significant damage.