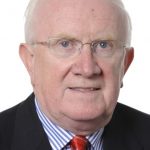 Donegal will form part of the largest constituency in the county in next years European elections.
The Midlands Northwest constituency will include 16 counties with four seats.
It will be made up of Donegal, Cavan, Galway, Kildare, Laois, Leitrim, Louth, Mayo, Meath, Monaghan, Offaly, Rosscommon, Sligo and Westmeath.
Sitting Northwest MEP, Pat the Cope Gallagher stopped short of welcoming the new constituency, but he says the boundary committee had no other option:

And regarding whether or not he will run in next years European Elections, Pat the Cope Gallagher said he has not made any decisions yet…..
Podcast: Play in new window | Download