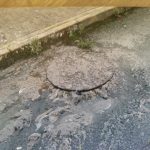 Residents of a Lifford housing estate, which has been plagued by overflowing sewerage, are demanding that the issue be fixed once and for all.
A stream of foul smelling sewage water has plagued residents of Hazlewood Drive for over four years now.
And the problem has become so bad over the past fortnight that children can no longer play on the street as the flow of sewerage is unavoidable.
Donegal County Council have told residents that their hands are tied as they do not own the estate, and funding is not available.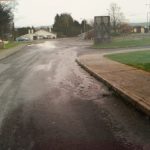 The problem stems from a broken sewerage pump.
This has resulted in untreated sewage oozing out of a manhole on the road into the estate.
The wastewater flows onto the nearby Lifford to Letterkenny Road, and residents say the problem is much worse on rainy days.
A stench also hangs in the air in the estate, and the residents I spoke to said on the worst days the smell comes up through sinks and toilets and can be smelt all around the surrounding area.
While a tanker has been attending at the estate to remove effluent residents say it isn't adequate and that sewage is still flowing within days.
Local Cllr Gerry Crawford is due to raise the issue at Mondays meeting of Donegal County Council, he's demanding that Government funding be made available to sort the problem.
Pearse McLaughlin and Eamon Tourish live in Hazelwood Drive, and they are asking what's the point in them paying the property tax:

Podcast: Play in new window | Download