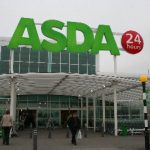 Two Donegal women who went on stealing spree at Strabane's Asda store have been warned they face prison if caught again.
Erica Walsh (21) of Hall Demesne, Mountcharles and Siobhan Hearty (21) of Stragar, Killybegs both entered guilty pleas to theft when they appeared before Strabane Magistrates on Thursday.
The duo were detained on August 2 this year after being spotted by Asda security staff.
Police were called and told that, via CCTV, Walsh and Hearty had been spotted placing clothes into a trolley before going to changing rooms and transferring the goods into shopping bags.
They were apprehended as they attempted to leave the store. During police interview both women made full admissions to the theft.
Representing the pair was solicitor Keith Kyle. He said it had been done "out of madness" and that there could be "no good explanation" for his clients' actions on the day.
The stolen clothing amounted to a value of £518.13 but all items were returned to Asda and were fit for resale, the solicitor added.
District Judge Nigel Broderick fined the women £300 each with the warning that if they were caught stealing in Northern Ireland again there was "a real likelihood" they would to prison.