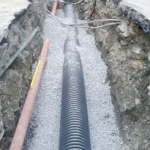 A West Donegal councillor is rejecting suggestions that money set aside for the Dungloe and Glenties Sewage Schemes may be lost.
Earlier today, the Dungloe Action Group said it is to meet with Donegal County Council officials tomorrow to discuss the delay in the commencement of the schemes.
At the beginning of August this year, Junior MInister Dinny McGinley said the work would begin within a fortnight.
But two months on and works have still not begun.
Spokesperson for the Dungloe Action Group, Michael Mac Giolla Easbuig says there is a real fear, that if the work doesn't start soon, then the money will be lost…………

This afternoon, local Councillor David Alcorn said as he understands it, tomorrows meeting which has been facilitated by Cllr Marie Therese Gallagher involves local residents, and not an action group.
He's confident that outstanding issues will be resolved………
Podcast: Play in new window | Download