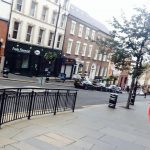 The PSNI has described the shooting dead of  a 35-year-old man in Derry City Centre yesterday morning as 'brutal and horrific'.
The man named as Barry McCrory was shot dead at around 10.45 a.m. in a flat above business premises in Shipquay Street in the city centre.
Detective Chief Inspector Ian Harrison said that police needed the help and support of the public to catch whoever was responsible.
Speaking at a press conference yesterday afternoon the Chief Inspector said: "Police would like to hear about a suspicious male who was seen in the Shipquay Street area at around 10.20.
"This man was wearing a dark coloured bomber jacket, dark trousers and was possible carrying a rucksack.
"It is believed he walked through the Richmond Centre up Shipquay Street entered the flats and carried out this shooting."
The officer revealed that the victim's partner was in the flat with him at the time and was forced into another room.
She then raised the alarm and was said to have been 'badly traumatised' by the events.
DCI Harrison said that no one 'had the right to be judge, jury and executioner' and appealed for information from the general public.
Describing Mr. McCrory as being 'known to police' the detective said that nothing could justify a 'brutal murder'.
The officer said that the murder was 'unrepresentative of the people of this city' but refused to speculate if the killing was linked to the Wednesday night killing in Belfast.
He repeated that the police needed the support of the general public to find out who carried this crime.
Earlier today, journalist Eamon Mc Dermott spoke from the scene to Barry Whyte….   

Podcast: Play in new window | Download