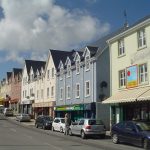 A major Road Resurfacing project gets underway in Buncrana tomorrow, with traffic management and diversion arrangements being implemented.
Donegal County Council has agreed programme dates with the surfacing contractor to resurface Buncrana Main Street, St Orans Road and part of St Marys Road as part of the ongoing Improvement Works.
The council's notice reads as follows –

Preparatory surfacing works will take place on Tuesday 15th October at West End Roundabout and at Main Street (between Ferris Lane and Church Street).  Traffic Control and width restrictions (including parking restrictions) will be in place and some delays should be expected throughout the day.  Works will commence early in the morning and will pause at morning peak times to try to minimise disruption.
Major resurfacing works will continue on Wednesday 16th, Thursday 17th and Friday 18th on Main Street (Ardravan Square to Millbrae) and St Orans Road (Mill Brae to St Marys Rs) and St Marys Road (St Orans Road to Church Street) and the above roads will be closed to traffic with diversions in place.  Traffic accessing Schools on St Marys Road will be diverted via Aileach Road and Church Street and can access parking on St Marys Road from the Church Street end.
Final Surfacing of Buncrana Main Street (West End to Ardravan Square) will take place on Sunday 20th October commencing early in the morning and progressing till mid afternoon.  The Main Street will be closed to vehicular traffic for this period and Southboud traffic will be diverted via Castle Avenue, Cahir O Doherty Avenue and Aileach Road.

Every effort is being made to minimise the impact of this work for businesses and residents on the Main Street and we would like to thank the businesses and the wider community in advance for their patience during what will ultimately be very beneficial works for the Main Street as a place of business.