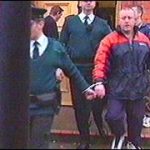 Kieran McLaughlin, the man at the centre of a major cross-border manhunt has been urged by his own family to give himself up.
PSNI and Gardai officers are still searching for the 58-year-old as the murder investigation he is wanted over enters its fifth day.
McLaughlin is wanted in connection with the murder of 35-year-old Barry McCrory who was shot in the head – believed to be four times – in his Shipquay Street apartment area of Derry on Thursday.
The SDLP's Pat Ramsey, who has spoken to the suspect's family, said they want him to hand himself in to police….

Podcast: Play in new window | Download