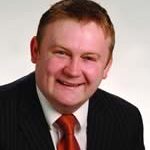 The Chairperson of Letterkenny's Joint Policing Committee says poor lighting in housing estates may be contributing to attempted burglaries in the town.
Cllr Dessie Larkin says that on the same night there was a highly publicised aggravated burglary in the Glencar Area, he's been told by a number of residents in Ashlawn that attempts were made to break into their homes. He says while he won't elaborate publically, elements of what they said have convinced him that the perpetrators were the same as those behind the Glencar incident.
Next week, he will oversee a major Crime Prevention seminar at the Public Services Centre, during which representitives of the Derry Policing and Community Safety Partnership will give a presentation on neighbourhood watch.
However, Cllr Larkin says the council can make a very important contribution by improving the lighting……….

Podcast: Play in new window | Download