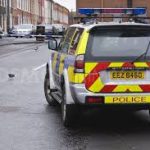 Police in Strabane are warning parents to be vigilant following two separate incidents where children were approached by an adult.
The incidents happened over the weekend, but where not reported to the PSNI until yesterday evening.
The first incident occurred at Eden Terrace on Saturday evening at approximately 7pm when a man possibly in his 40s, and in a blue coloured Vauxhall Corsa car invited two 7 year-old girls into his car.
The second incident occurred at St Mary's Drive also on Saturday evening at approximately 8.20pm when a male described as being in his 40s, approximately 5'9, tall and bald, approached a 10 year-old girl.
On both occasions the girls ran off to their homes and told their parents.
These reported approaches to children come after similar incidents where reported in the past fortnight in Donegal.
Gardai in Letterkenny and Inishowen issued warnings to parents of small and teenage children following a number of reports of approaches to children.
None of the Letterkenny, lnishowen or Strabane incidents are believed to be linked.