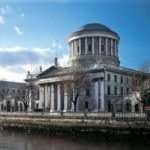 A High Court case brought by a Donegal family against an engineer has been struck out after the case was withdrawn by the couple concerned.
Karen and Francis Carr had brought a case against Gerard Duke of Donegal Town in relation to defects to their house. However, they withdrew their claim yesterday evening and accepted that Mr Duke had no liability whatsoever in the case.
The case has now been been struck out.