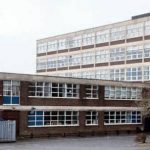 St Peter's High School in Derry's Creggan is to be demolished, with a major social housing project planned for the site.
Following weeks of discussion, the Diocese of Derry has confirmed that structural surveys are almost completed, and then the building can be knocked down.
The pending demolition has been welcomed by Cllr Kevin Campbell, who's been campaigning for this measure for several months.
He says since the school closed, the building has been a magnet for anti-social behaviour, and following a number of arson attacks, demolishing the school has been a priority……..

Podcast: Play in new window | Download