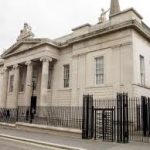 A Derry man told police that he was in breach of his bail because he had been abducted by masked men and held for three days and questioned about interfering with children.
37-year-old Barry Crossan of 4, Hawthorn Way in Derry had been released on High Court bail after being charged with burgling a chemist on August 18.
A police officer told Derry Magistrate's Court that Crossan had breached his bail last week.
The court was told that Crossan handed himself in to police on Sunday. He said he breached his bail for three days because he had been taken hostage by a group of masked men in Creggan.
He claimed he had been hooded and driven across the border.
He says he was then questioned for three days about allegations of interfering with children before claiming he was brought back to Creggan and dropped off.
The officer said that Crossan claimed that the masked men had pulled his electronic tag off and police had been unable to locate it.
The police officer said that they were unable to either prove or disprove Crossan's claims.
Opposing bail District Judge Barney McElholm said that he did not believe it was possible for anyone to pull the tag off and he was satisfied that that did not happen.
He said Crossan was telling 'a pack of lies' and asked was there any evidence on Crossan of a beating.
When told there was not he added 'so this shadowy group of masked men pay great attention to human rights laws'.
He revoked Crossan's bail and remanded him in custody to appear again on November 14.