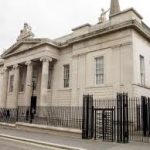 A 27-year-old man has appeared at Derry Magistrate's Court charged with firearm and explosive offences.
Ryan O'Reilly of 35, Meadowbank Court in Derry faced a total of 9 charges relating to a find made in the city last December.
He was charged with possessing two pistols, a sub machine gun and two magazines under suspicious circumstances on December 20.
He also faced two charges of possessing hand grenades on the same date as well as a charge of possessing a stun gun and CS gas again in December.
O'Reilly only spoke to confirm his name and that he understood the charges.
A police officer said he believed he could connect O'Reilly to the charges.
Defence solicitor Mr. Kevin Casey said there would be no application for bail at this stage.
O'Reilly was remanded in custody to appear again by videolink on November 21.