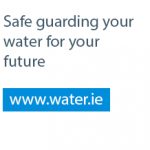 Donegal County Council says there is no threat to jobs as a result of the establishment of Irish Water.
From January 1st, Irish Water will take over the council's role in the maintenance and administration of the water supply network. As part of that transition, the Council is pushing to clear outstanding non-domestic accounts, with 30 disconnections recently, and the council warning there is more to come.
Speaking to Highland Radio News about the transition, the council's Director of Finance Garry Martin said that while some staff may move over to Irish Water, all staff's jobs are guaranteed……..

Podcast: Play in new window | Download