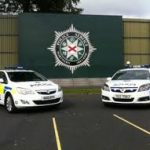 A man in his 20s was arrested after a bar owner on the Strand Road reported someone trying to take money from the till and bottles of drink shortly before 10pm on October 30th.
A man was arrested on suspicion of burglary in a house in the Steelstown Road area around 2.30am today (31st). Police were alerted to the area after a neighbour reported suspicious activity.
Finally a man and woman in their 20s were arrested after a member of the public reported that someone was trying to break into a house in the Waveney Park area shortly after 3am (31st).
All four people are currently helping police with their enquiries at Strand Road police station.