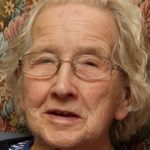 Isa Arthur has been speaking of her devastation over the death of her sister Suzy, following a burglary in her home.
In July of this year, two elderly sisters, Suzy and Isa Arthur, aged 89 and 91 were robbed and beaten at their home in Donegal.
Suzy was badly injured and taken to hospital, never returned home and on October 10th passed away in hospital.
Isa now lives alone in the house where the attack happened.
Newstalk's Shona Murray last night spoke with Isa who is still extremely distraught at the death of her sister……….

Podcast: Play in new window | Download