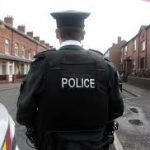 Police in Derry are investigating reports of an armed robbery and car theft last night.
Two takeaway restaurants in Derry were robbed by a masked man with a hammer.
Two cars were also broken into.
Police have said that they received reports at 7:20pm of a masked man breaking into two vehicles in the Lenamore Road area.
Police understand that the man then left the area in another vehicle.
Then shortly before 7:40pm it was reported that the man damaged the front window of a take away at the Culmore Road area with a hammer.
The man is then reported to have entered another take away in the same area armed with a hammer.
A member of staff was threatened during the incident, but was not harmed.
An undisclosed amount of money was taken during the incident.
The man then escaped in a waiting car driven by another man towards the Shantallow area.
Anyone with any information is asked to contact CID at Strand Road police station.