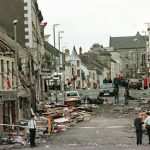 An appeal by two men held liable for the 1998 Omagh bombing will go ahead on the 25th of this month after they failed in a bid to have the hearings put back.
Lawyers for Colm Murphy and Seamus Daly were seeking an adjournment over concerns about the availability of trial transcripts.
However, judges due to hear their challenges in two weeks time refused to delay the hearings, saying they were not persuaded that proceeding would cause an injustice to either of the men.
Earlier this year, Colm Murphy from Dundalk and Seamus Daly from Culaville in County Monaghan were held responsible for the Real IRA atrocity following a civil retrial at the High Court in Belfast.
They had successfully appealed against being held liable in an initial ruling in 2009 following a case taken by some of the Omagh families.
Two other men, convicted Real IRA leader Michael McKevitt and fellow dissident republican Liam Campbell, failed to have the findings against them overturned.
During the second hearing it was claimed that Murphy supplied mobile phones to the bomb team.
Daly was allegedly linked by a call made on one of the phones just after the explosion.
In March, Mr Justice Gillen ruled that both men were liable "on the balance of probabilities", leaving them both liable for an award of damages previously set at £1.6m.
Two weeks ahead of the scheduled opening of their appeal, lawyers for the two men argued that they needed more time to obtain transcripts.
Rejecting the application, Lord Justice Higgins pointed out that Murphy and Daly's lawyers have their trial notes and can access CD recordings.