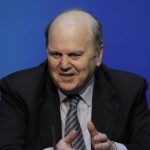 The finance minister says the decision not to take a second bailout means Ireland is getting its freedom back.
Michael Noonan is this afternoon meeting his Eurozone counterparts to tell them Ireland won't be asking for a financial backstop as it leaves the bailout.
The minister says Ireland should make its exit now while economic conditions are good in the Eurozone.
And he says saying goodbye to the Troika will return Ireland's freedom:

But Donegal South-West Deputy, Pearse Doherty  has played down the significance of the announcement today.
Deputy Doherty, who is Sinn Feins Finance spokesperson,  says the government was never expected to seek a second loan in the first place.
And he says todays announcement doesn't change the current economic conditions in the county:
Podcast: Play in new window | Download