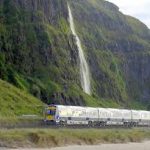 The future of Derry's rail link to Belfast will be discussed when a delegation of business, community and political representitives from the city meets with the Regional Development Minister at Stormont.
Derry's Mayor, Cllr Martin Reilly will this afternoon lead a delegation from the city and the wider North West region to meet with the Minister for Regional Development Danny Kennedy at Stormont.
The Mayor will be joined by party leaders, and representitives from the Foyle Civic Trust and the Into the West Rail Campaign group. As well as discussing the timetable for a further upgrade of the line, the delegation will also raise the location of the city's railway station, with a campaign to have the old station restored.
Speaking ahead of this afternoon's meeting, Cllr Reilly said it will be a useful opportunity for city representatives to discuss with the Minister the importance of our rail network and their keenness to ascertain the outcome of consultation on the future of the Waterside Station.
He says it's important that a partnership approach has developed to this important issue, and all parties and groups are working todether to lobby for better rail services and facilities.