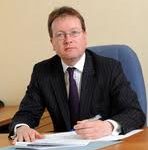 The North's Attorney General says there should be an end to prosecutions for Troubles-related killings.
John Larkin told the BBC there should be no further police investigations, inquests or inquiries into any relevant killings that took place before the signing of the Good Friday Agreement in 1998.
He said that means all deaths caused by paramilitaries, police or the Army.
Mr Larkin's comments come as former US diplomat Richard Haass visits Derry today for discussions on his efforts to broker a political agreement over how to deal with the legacy of Northern Ireland's past, as well as current issues such as flags and parades.